We have a catalog full of beautiful designs, and we stand by each and every one of them, so we of course recommend browsing the catalog before attempting to create your own design.
However, many of our customers are also talented designers or simply have a fun photo or child's artwork that they'd like to present without anything else. This is where our DIY templates come in. Just pick the size you need and upload a finished design or email us a print-ready PDF to be added to your proof. This article will outline how to order with a DIY template and provide some tips and tricks for a print-ready design.
Quick link: Send us your file
Topics:
---
Ordering
Visit our DIY card category or DIY gift category and pick the format you think will work best.
If your image is all ready, you can upload it as a photo through standard photo upload.
If your card looks good with only these steps, you may stop here and check out. Otherwise continue on with these steps.
If you have a vector or PDF file (Recommended if you've created your own text and/or graphics) then you'll simply add the card to your cart with no personalization, but select "Request free designer assistance" and let us know you'll email the design file to us.
Email your design file to us with all text outlined and photos embedded. Use this form
Either way we may contact you if we are concerned about your text or graphics not printing optimally.
Preferred file types and guidelines
Your file should be a finished design that is ready to print. We are unable to build designs from scratch or edit your design, but we can help confirm your file looks good and provide guidance if you need to make adjustments
A PDF file is preferred as it will automatically preserve text and image quality for optimum print quality

If you have a flat file with no layers such as a JPEG or PNG, saving as a PDF won't add any quality. If you only have the flat file it will still print as long as the resolution is high

If your design was created in Adobe Illustrator you can send us the .ai file, but be sure to outline your text in case we don't have the same fonts you used

Templates
Worried about your margins or if your design will be safe to print? You can download one of our templates to ensure that your design will be okay! Any .pdf or ai files can be sent to us through our help form: Upload a DIY File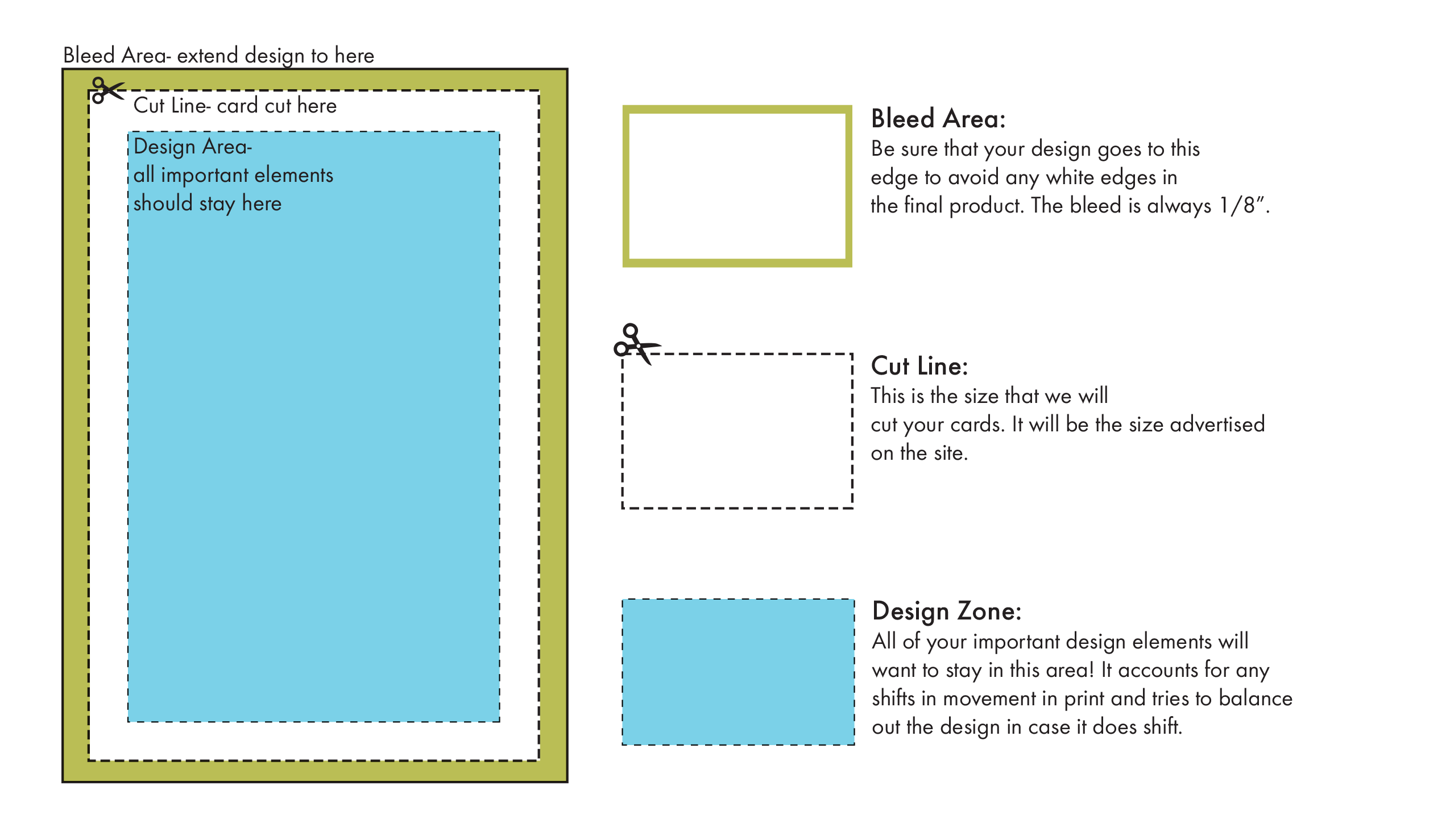 Using Canva
Many of our DIY customers use Canva, a free web-based design tool, to create their designs. Below are instructions on how to use the above templates and how to export as a PDF. Similar steps should work for other tools as well. (Paper Culture is not affiliated with Canva)
Using our templates in Canva
Sign into Canva
Choose "Upload" in the "What will you design today?" section
Upload PNG file in desired size
Choose "Custom Size" after pressing "Use in a new design"
Press "Create new design" using the automatically populated size (size of the image uploaded)
Ensure you add a new layer on top and lock the bottom layer to ensure you keep your guidelines
Exporting from Canva
Hit "Share"
Choose "Download"
Choose "PDF Print" under File type
Ensure all checkboxes are UNCHECKED
Free Account: keep as RGB; Paid Account: change to CMYK
Hit "Download"
Is your design still not previewing correctly on site? Are you confused about the notes the designers had sent you, go ahead and review this article about bleed and image placement!
_____________________________________________________________________
Postcard guidelines
In addition to the regulations listed above, for a postcard back to be USPS approved, there are a few design regulations to abide by. You can refer to the image below or download our postcard templates for reference! Any .pdf or ai files can be emailed to contact@paperculture.com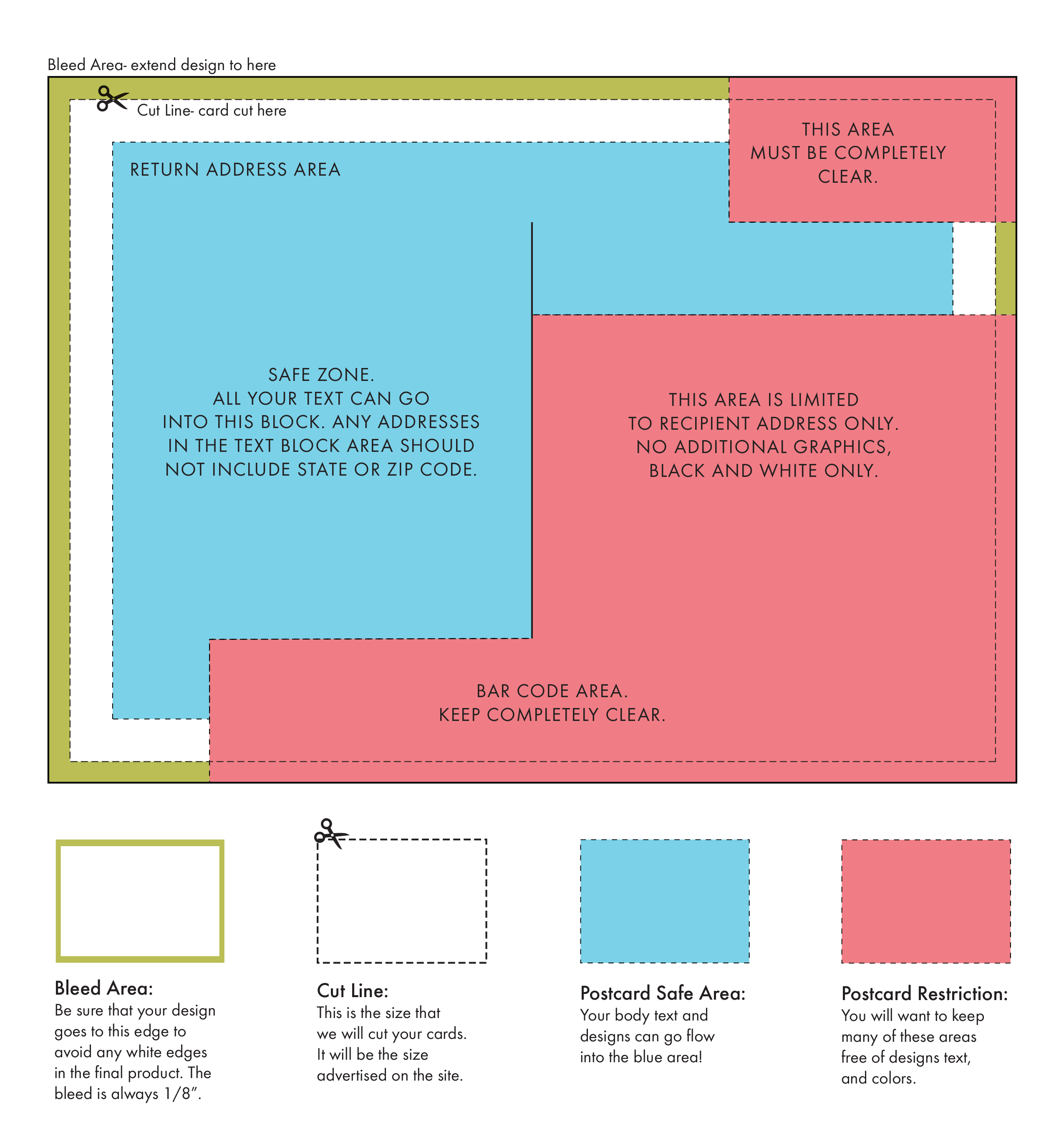 Templates